Textile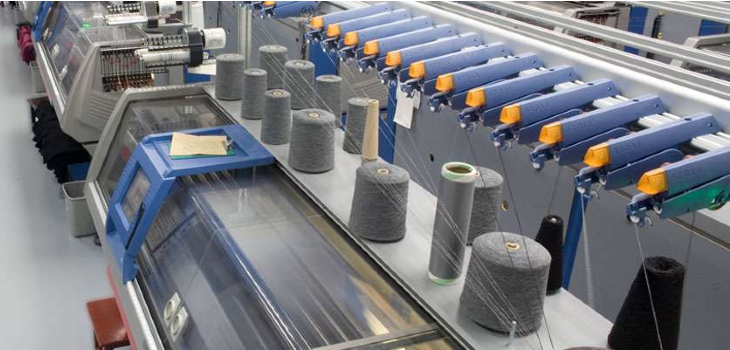 Modern textile machineries are compact high speed machines compared to earlier designs & hence require lubricants which can perform in the extreme conditions of speed, temperature and load. Standard lubricants can no longer meet these expectations. The choice of a lubricant is therefore, largely governed by the technical and operational requirements and not just the cost. High-quality special lubricants - though they cost more, effectively turn out much more economical in the long run.
Here is a presentation of high technology lubrication solutions for the modern textile machinery. You will find details of typical applications and solutions to lubrication problems involving the following types of textile machinery
Textilep preparatory.
Spinning machines.
Weaving & sizing.
Looms.
Dyeing & finishing.
Synthetic fiber spinning machines.
Synthetic fiber processing machinery
Designed to perform in the extreme conditions, our products not just meet but exceed you expectations!
These offer:
Maximum operational & performance reliability
Low machinery servicing costs
Long maintenance intervals
Environment-friendly solutions
Preparatory:
Blow room:
Chains: non-fling, adhesive chain lubricants
PIV gear boxes; synthetic gear box oil
High speed grease for the drawing frame spindle bearings
Carding:
Flat end chains
Flat belts
Open gears
Comber/Sliverlap/Ribbonlap:
Chains
Headstock gearbox: synthetic gear oils
Top & bottom roller bearings: High speed Grade

Spinning Machines:
Draw frames/Speed frames:
High speed grease
Adhesive chain lubricants
Ring frames:
High speed grease for the top & bottom end roller bearings
Poker Bars: Dry lubricating coatings
Winders/Autoconers:
Cleaner & lubricant spray for splicers & knotters
Cam lubricants
High speed grease for:adoptor/cradle & drum bearings
OE spinning machine rotor bearings
Autocoro & twin disk bearings
Synthetic gear oil for the twisters
Weaving & Sizing:
High temperature grease for the drying cylinder bearings
Synthetic gear oils.
Adhesive non-fling chain oils
Looms:
Long life grease for the electrical motors
Adhesive chain lubricants
High Performance grease for the cams & slides
Synthetic Gear Oils
Long Life grease for the electrical motor
Dyeing & Finishing:
Stenters
High temperature grease for the chains
High temperature chain oils
Dry lubricant coating for the width adjustment screws
Washing & pre-treatment lines.
Water resistant grease for the rollers
Anti-stick coatings to prevent sticking of sizing chemicals on the Rolls
Engineering:
Multi-purpose grease
Degreaser & cleaner concentrate
Anti-seize compounds
Compressor oils
Corrosion protection of the spares
Integrated Technology
B-206, The Great Eastern Summit,
Sector 15, CBD Belapur,
Navi Mumbai 400 614
Contact No. : +91 77100 96161 - 64
E-mail : sales@integ-tech.net
Website : www.integ-tech.net

Business Enquiries
Contact No. : +91 77100 96161 - 64
E-mail : sales@integ-tech.net